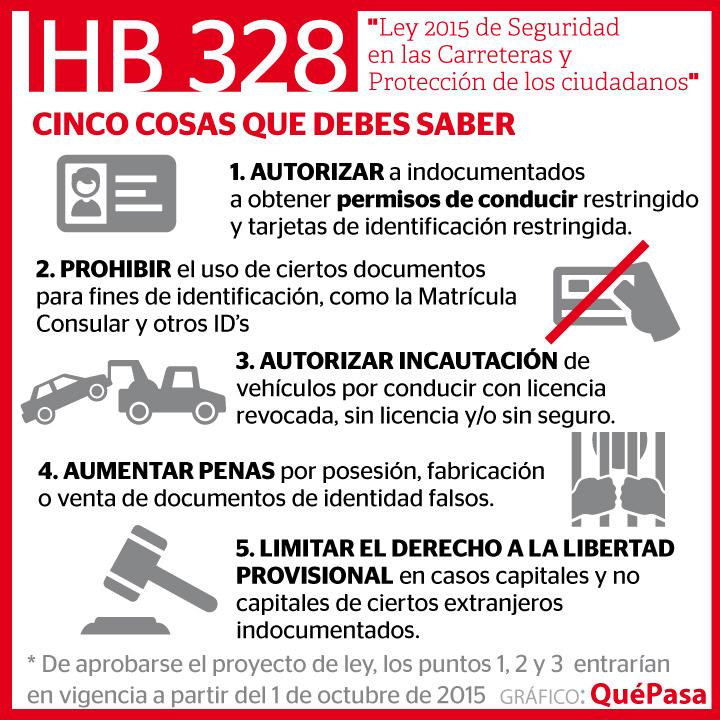 El Miércoles 16 de Septiembre, el representante estatal Harry Warren anunció que no seguirá adelante su proyecto de ley HB-328, el cual devolvería el privilegio de manejar a la población indocumentada de Carolina del Norte.
Según el representante, "el proyecto de ley no está muerto". Afirmó él que quizás se discutirá de nuevo en la sesión corta que se inicia en Mayó del año que viene.
Para muchos, esto fue un día triste. Para los demás, esto significa una oportunidad para pedir algo mejor.
Read more
If you've been following the ongoing budget battles at the North Carolina General Assembly, you may have seen the term TABOR, or Taxpayer Bill of Rights, as it relates to tax proposals from the Senate.
A bill of rights for taxpayers sure sounds good, but what is it really?
A Taxpayer Bill of Rights (TABOR) is a tax and expenditure limit scheme applied at the state level. It purports to "limit" government growth, but is designed to ultimately shrink state and local government capacity to provide services. These efforts may be called something else, especially in the wake of the disastrous effects in the only state where it's been tried, but TABOR by whatever name:
- is a constitutional amendment

- restricts revenue or expenditure growth to the sum of inflation as measured by the Consumer Price Index (CPI) plus population change

- requires tax revenues in excess of the amount set by the limitation formula to be returned to taxpayers in the form of a tax refund

- requires voter approval to override the revenue or spending limits (in other words, another full-blown statewide ballot campaign)
Read more
When our families are under attack, what do we do? Stand up, fight back! This was the sentiment of the day, on Friday July 10, when hundreds of immigrants and allies from all over the country marched in support of deferred action for undocumented parents and young people.
That Friday, so important to our movement, was when arguments would be heard at the Federal 5th Circuit Court of Appeals, about the injunction on the start of deferred action programs.
It was inspiring to see so many people, not just immigrants, walk and withstand the tremendous heat in New Orleans. There was a profound feeling of sisterhood/brotherhood, between immigrant families affected and allies who though do not face the same obstacles traveled to support their immigrant brothers and sisters.
Read more
On July 16th, the North Carolina Medicaid Expansion Coalition which is working toward extending health coverage to 500,000 low-income uninsured North Carolinians in our state is hosting a statewide day of action to encourage Governor McCrory to expand Medicaid under the Affordable Care Act.
Tragically, it's estimated that over 1,000 North Carolinians will die each year as a result of not having health insurance. Lives are quite literally on the line, but Governor McCrory and our state lawmakers are playing politics while time is running out for some North Carolinians.
Join us in calling on Governor McCrory to be a leader for our state by expanding Medicaid!
Most North Carolinians who would be covered by expanding the program are adults who are employed and work in retail, food preparation, hospitality, service industries, and agriculture. North Carolina's economy relies heavily on these individuals and they deserve to have access to the preventative care they need and to be able to see a doctor when they get sick.
Read more
Dr. Martin Luther King, Jr. reminded us that "budgets are moral documents." If you believe that, as I do, then our state lawmakers are not only leading us toward financial bankruptcy, but moral bankruptcy as well.
For the past two years, we have watched our state gamble with our tax code as if were chips at a roulette wheel. And just like a casino, the odds are stacked against us.
As in the past, legislators have doubled-down on proven losers such as corporate and personal income tax cuts that have benefitted those at the very top, siphoned resources out of the economy, and weakened the building blocks of a strong economy like schools, community colleges and courts.
Read more
If you haven't already, you will likely be hearing a great deal about the possible effects of King v Burwell, the Supreme Court challenge to the Affordable Care Act that is likely to be handed down next week, as early as Monday Thursday morning. There are lots and lots of people saying lots and lots of things about the case, but we wanted to break things down a bit for you to see what the impact would be here in North Carolina.
While a finding for the Plaintiffs in the case would not destroy the Affordable Care Act as many have carelessly opined, this court decision does have the potential to significantly upend the health care system overall, and portions of the ACA in particular. In North Carolina alone, more than 492,000 people have coverage through its federal marketplace, and 93 percent of those enrollees have received financial assistance, and those folks would be directly impacted, almost right way. 
Read more
Who remembers the "Anyone, anyone?" scene from Ferris Bueller's Day Off, where the dry civics teacher, played by Ben Stein, walkes students through the history of supply-side economics? (If you're drawing a blank, you can watch the clip here.) 
At the end of the scene, Stein asks the barely-conscious class what Vice President George H. Bush called the idea that if you cut taxes sharply enough, you can generate huge amounts of economic activity and thereby keep revenue rates steady. Do you remember the answer? The answer is "voodoo economics."
Read more
Yes, it's June already, and the NCGA still doesn't know what they're doing about Medicaid reform. You might remember that they tried, and failed, to come to an agreement last year on the very same topic. 
This morning, we got a glimpse of the House's proposal. It isn't very different from what they proposed last year.
The House proposal would deliver Medicaid services through organizations created in-state, such as hospitals and physician groups that choose to manage a group of no less than 30,000 patients at a time. Those organizations, "provider-led entities", or PLE's, would be given a set amount to cover services for all of those patients, putting the financial risk on these PLEs to meet patient care and quality goals without going over budget. (There would also be rewards and penalties for PLEs that meet or fail to meet performance and quality goals.) All of this would be overseen by the Department of Health and Human Services which would be authorized to "take all actions necessary to implement the Medicaid transformation" and be given a 5-year timeline to complete the process.
Read more
In a major speech last week, Hillary Clinton called for a dramatic expansion of our country's voter registration system. Her proposal? Automatic registration of every citizen at the age of 18.
I say it's about time.
Lack of voter participation is a major problem in the United States. If that comes as a surprise, you're not alone. We're used to seeing voter participation rates in the 50 percent range, give or take, year after year. We have more participation in presidential elections years, less in off-years, but the average is right around 50 percent of eligible voters come to the polls to cast their ballots. But many countries – most, in fact - do far better. 
Read more
*** UPDATE (6/11/15): SB 2 passed the override vote in the NC House. It is now legal for state officials to deny marriage licenses based on "sincerely held religious beliefs" in NC. ***
I believe a lot of things. In fact, a lot of these beliefs are sincerely held. For example, I believe that Bigfoot lives in the foothills of the Blue Ridge Mountains. I believe that my son will grow-up to be President of the United States. And I believe that the leadership of the North Carolina General Assembly are full of it. (That one is a very sincerely held belief. I even have some data to back that one up.)
When the NC General Assembly introduced Senate Bill 2, the intention was to allow magistrates to opt-out of officiating same-sex marriages in our state if doing so would run counter to the individual's "sincerely held religious belief". Legislators were well aware of the legal, moral, and political ramifications of these type of proposals. After all, nineteen states have so-called religious freedom laws. Indiana passed a similar law earlier this year, but the NC-version of the law goes further than any other law on the books anywhere. 
Read more